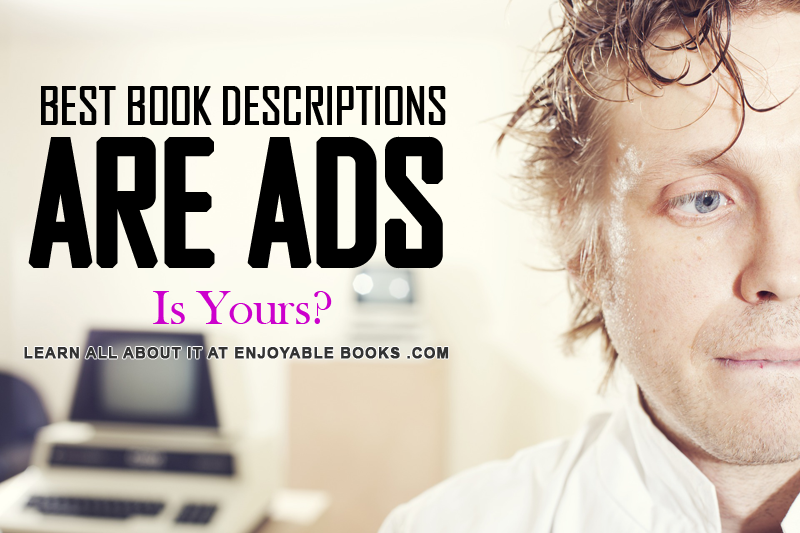 Book Descriptions that look like descriptions are hardly any good. They just might be the reason you don't sell many books. Turn it into an Ad. Hire a copywriter if you have to. But, the best descriptions compel a reader to buy the book, not just tell them what the book is about.
Below are some descriptions of Good and Bad book descriptions. Let's look at a few bad ones and then we'll move on to the good ones.
Bad Book Descriptions
Book Name – The Grand Inquisiiton
Can a poor boy from the Sagittarius quadrant be the key to saving the galaxy from the Star-Eaters? Can Doctor Mooke complete his formula in time to transform Jubu into a passable version of the chosen one? Will Thraxis acknowledge the true heir to the Bollonian throne? Who will step forward to wield the pop-gun of prophesy? Where is the gem of consternation? What is the secret agenda of the Dark Council?
Here are two generic description that tell you nothing
An action-adventure novel set in the near future.
If you're looking for action, adventure, romance, mystery, intrigue, and edge-of-your-seat financial advice, this is the book for you!
Good Book Descriptions
Book Name – Miracle Mindset
Celebrity health expert and four-time New York Times bestselling author, JJ Virgin reveals how one life-altering event taught her to tap into an indomitable mindset, trust her instincts, and defy the odds, ultimately saving her son's life…and her own. She'll share the lessons she learned that can help you create your own resilient mindset.
In 2012, JJ Virgin was in a hospital room next to her sixteen-year-old son who was struck by a hit-and-run driver and left for dead. She was told by doctors that he wouldn't last through the night and to let him go. With every reason to give up, JJ chose instead to invest her energy into the hope that her son would not just survive, but thrive. In Miracle Mindset, she shares the lessons that gave her the courage to overcome the worst moment of her life.
During this difficult time, she learned valuable personal lessons that helped her rebuild her life and find success and purpose in herself, her work, and teach her sons and community how to face their own obstacles and trials. Lessons like "Don't Wish It Were Easier, Make Yourself Stronger" and "Your Limitations will Become Your Life" will lead you to your own personal power and purpose, even when the deck seems stacked against you.
With true stories from her life, her clients, and other well-known thought leaders, she can help you transform your mindset and your daily habits to endure the difficult battles that life sends your way. Insightful, personal, and completely relatable, Miracle Mindset proves that miracles are possible when you show up, remain positive, and do the work.
Book Name – A Criminal Defense
Losing the trial of his life could mean losing everything.
When a young reporter is found dead and a prominent Philadelphia businessman is accused of her murder, Mick McFarland finds himself involved in the case of his life. The defendant, David Hanson, was Mick's close friend in law school, and the victim, a TV news reporter, had reached out to Mick for legal help only hours before her death.
Mick's played both sides of Philadelphia's courtrooms. As a top-shelf defense attorney and former prosecutor, he knows all the tricks of the trade. And he'll need every one of them to win.
But as the trial progresses, he's disturbed by developments that confirm his deepest fears. This trial, one that already hits too close to home, may jeopardize his firm, his family—everything. Now Mick's only way out is to mastermind the most brilliant defense he's ever spun, one that will cross every legal and moral boundary.
---
I hope this gives you some insight into book descriptions. I've heard simply changing your book description and keywords within Amazon gets you better rankings and doubles your sales. Are you going to change your description? If you do, post your results in the comments below.
Mayur